3 Blind Mice Slot Game
Play 3 Blind Mice with 1000% Bonus up to £1,000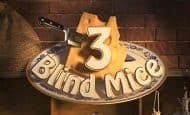 3 Blind Mice is a 5-reels, 20 paylines Online Slot Game by Leander Games. 3 Blind Mice has Respins, Sticky Wild, and Wild features with an RTP of 96.16%. Bonus rounds are triggered by a mouse reaching the respective Bonus Symbol.
3 Blind Mice Online Slot UK
Care for a slice of cheese? Your whiskered friends in 3 Blind Mice online slots may be blind but they can definitely follow their nose and if you help them steal food from the grocery, they may award you with many chances to win real money.
3 Blind Mice Developer - Leander Games
Sunfox Gaming, affiliated with Leander, is the online casino developer behind the playful and comical 3 Blind Mice online slot. They are famous for focusing on quality over quantity when creating innovative slots that engage players with beautifully immersive visuals and exciting gameplay and bonuses. Players of online casino UK will be happy to enjoy a number of Sunfox titles at Rose Slots such as 'Cash Mix Online Slot' and 'Ave Caesar UK Slot', You will notice that the comic style of these Sunfox games blends beautifully with stunning 3D graphics, animations, and overall fun gameplay.
Play 3 Blind Mice Mobile Slot
Gameplay for 3 Blind Mice online slot is funny, engaging, and as easy as saying cheese when posing for a picture. With 5 reels, 3 wager rows, and 20 fixed paylines, you may be dining on the most expensive cheese and wine. 3 Blind Mice uk slot has a flexible betting range from 20p to £200. If you need to feed your pet mouse some cheese, set the AutoPlay for 5 to 100 uninterrupted spins.You can play 3 Blind Mice online where ever you may be as it is beautifully designed and compatible as a mobile slot as well as on tablet and desktop. With many features and exciting bonuses, the theoretical RTP is set at 96.16%.
3 Blind Mice Slot Features
Any cheese symbol next to a mouse can cause the mouse to hop over and turn it into a Wild. Any previous visible Cheese Wild linked horizontally will remain in place and become a Sticky Wild Cheese for the next spin. The Wild replaces all other symbols, except the Bonus, to complete wins. The highest value symbol is the leg of ham with 5 on the reels awarding a meaty win of 500 coins. After a cute and comical introduction clip showing the 3 mice evading an angry shopkeeper, 3 Blind Mice slot places you in the store. There are meat and garlic cloves hanging, and the reels are creatively separated as shelves. Beside the reels, stand the 3 mice that can hop over to the symbols if their noses tempt them enough. In order from high to low value, the symbols include a leg of ham, orange marmalade, and pretzels twisted into the letters A, K, Q, J, and 10. There is also a cheese slice Wild and 3 separate Bonus symbols (Farmers Wife Wild, Whack-A-Mouse, & Big Cheese Trail).
Visually, 3 Blind Mice online slot has very impressive graphics in 3D cartoon/comic style and the animations will engage you with laughter. Nature sounds of chirping birds are heard through the open window of the shop and also the giant whiffs of each mouse enjoying the food's aroma. Upon spins, the classic 3 Blind Mice tune plays. Rose Slots lets you enter the mouse hole where you'll meet 3 friends that have big appetites and even bigger payouts that they are happy to offer. Each Cheese that lands next to a mouse, becomes a cheese Wild and is stuck, creates a 'gouda' path to the Bonus symbols that land on reel 3, 4, and 5. This can occur on single or over multiple spins. The Farmers Wife Wild (i.e the knife bonus symbol) will be activated on reels 3 if the mouse is led down the cheese path. The whole of reel 3 becomes Wild with the angry Farmers wife who completes wins. If the path leads to reel 4 with the Whack-A-Mouse Bonus symbol, you get to whack mice with a hammer to be awarded prizes or extra whacks. If the path ends at reel 5 with the Big Cheese Trail Bonus symbol, then you roll the die to advance as far as you can on the Trail. The further you go, the more you win with extra rolls and bonuses awarded during the round. Reach the Big Cheese Wheel of Fortune at the trail's end and you will be awarded a massive win. Now that's an exciting win you better 'brie'lieve.
3 Blind Mice 2021
Sunfox released "3 Blind Mice" at the very end of 2017. We've had it on RoseSlots.com for almost all of that time, and throughout those three years, it's almost never shifted from its status as being among the top 10% most popular slots in our entire catalog. As you'll know, if you play with us regularly and you've taken a look around, that's a lot of slots! What might explain its popularity in 2021? How does this slot keep people coming back when so many fall by the wayside within their first twelve months of release? The achievement of the "3 Blind Mice" slot is all the more impressive when you consider who it's made by. We have nothing against Sunfox - in fact, we think they're an extremely promising online slots developer. However, they're not among the more prominent players in the industry. They don't have the size or the profile of a Microgaming or a NetEnt, and yet they've come up with something that's been able to go toe to toe with the latest and greatest releases from both of those developers. We think that might be down to the bonus features. More specifically, we mean the types of bonus features that happen at random.
Randomly-occurring bonuses never used to be a 'thing' in the world of online slots. If you wanted a bonus feature, you had to work for it by sticking around until you landed enough scatter or bonus symbols to trigger it. These days, it's increasingly common to see "random reel modifiers" (or similar mechanics) that might occur on any spin no matter what that spin brought you. "3 Blind Mice" contains that mechanic, and it arguably used it before it became as popular as it is now. There are no less than six "reel modifier" bonuses, all of which could make a significant difference to your fortunes when you're playing the slot. One of them is even a guaranteed win with an additional re-spin attached. We know plenty of slots that don't offer you a bonus as strong as that even when you've spent time and money sticking around to trigger it!
As we move further into the age of "video slots," we're seeing video game-style bonus side games incorporated into online slots with increasing regularity. That's another area that "3 Blind Mice" performs strongly with. There's something very video game-like and satisfying about the "whack a mouse" feature that can make it easy for you to (temporarily) forget you're playing online slots at all. The "Big Cheese Trail" bonus even makes you feel a little like you've stepped away from the internet altogether to play a board game! The above features make the slot exciting, but perhaps what really keeps it relevant is its timeless theme. No matter whether you're 21 or four times that age, you know the story of the three blind mice. Singing the song is a collective folk memory that's embedded in all of us from a very young age. Familiarity and nostalgia count for a lot when it comes to entertainment, and the nostalgic lure of this slot, coupled with its far-more-modern bonus treats, could well be the key to its enduring popularity.