Candy Burst Slot Game
Play Candy Burst with 1000% Bonus up to £1,000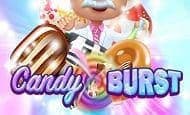 Candy Burst is a 5 reels, 25 paylines online slots game by Leander Games. Candy Burst has Wild, Scatter Symbols, Multiplier, Collapsing Wins, and Free Spins features, and an RTP of 95.01%. Rose Slots is the best place for players to enjoy Candy Burst, and is also home to over 500 other great online slots including Fluffy Favourites, Starburst, Rainbow Riches and Great Rhino.
Candy Burst Online Slot UK
If you're still young at heart, you're going to love this online slots from Leander Games. If you're a dentist, you'll hate it. Candy Burst was designed for those with a sweet tooth in mind, and takes us back to the days when we used to pester our parents to let us go and get a bag of pick and mix from the shop. Let's be honest though - we still buy pick and mix when we go to the cinema, and Leander knows it. That's why they've made this fiendishly attractive slot!
Candy Burst Developer - Leander Games
Online slots are a global industry, and one that's growing all the time. We're blessed by the number of brilliant online slots developers we have at home in the UK, but at Rose Slots, we welcome brilliant creations from developers all over the world. In the case of Leander Games, they're based in Buenos Aires, Argentina, where they've been going about their business since 2008.
Each online slots company tries to find a way to distinguish itself from the competition, and with Leander, it's all about graphics. They feel that a great slot game experience requires beauty, and so they work hard to make sure that everything they release is pleasing to the eye. That's true of Candy Burst, and we've seen them do it before with Africa Goes Wild UK Slot. It's perhaps their dedication to all things aesthetic that saw them chosen to create the official slot game of Dolly Parton in 2014. If you've played Wild Jane Online Slot here at Rose Slots, you'll also have noticed that the Leander-made pirate-themed slot is also one of our best-looking offerings.
All the good looks in the world would be useless to Leander if their slots weren't up to scratch when it comes to functionality, but they have no concerns in that department either. In one of the more interesting quotes on their website, they say that their slots are put together with 'super exciting mathematics.' The only maths that matter to slots players are the ones which say how much they've paid in and how much they've won back, but we'll take Leander's word for it that their skill at computation is part of the reason their slots are so much fun to play!
Play Candy Burst Mobile Slot
Everything about Candy Burst is so sugary and sweet that it might give you toothache just by looking at it. The reels and rows - if they can be called as such, as they don't have an outline or any framing - are a 5x3 set. In practice though, the sweets which appear on them hover in the air as if supposed by an invisible wind. Behind them is a swirling cloud of blue and purple, across which bubbles occasionally blow. It's a scene straight out of a childhood dream, accompanied by the sort of soundtrack that you might have heard if you were a fan of playing the Nintendo Game Boy during your earlier years. The quality of animation is very high, to the point where you're almost tempted to try to reach through your screen and eat what's been placed so temptingly in front of you.
There are only three low-value symbols in the base game - Q, K, and A. Everything above them is a sweet - and they're not just any old sweets. They're perfectly realized digital representations of many childhood favorites, and they're enough to get your mouth watering. We have a fizzy cola bottle, a licorice all-sort, a jelly cube, an Everton mint, a toffee (which looks suspiciously like a Werther's Original to us), a humbug, a creme swirl, and a gobstopper. The gobstopper is the most valuable of the sweets on offer, which only seems fair as they were always the most expensive purchase at the paper shop! Candy Burst also features a wild symbol in the shape of a sugary lollipop, and can replace anything apart from the bonus symbol to make winning combinations for you. The bonus symbol is represented by an image of a mustached scientist called 'Professor Free Spin,' and his name gives the game away about what he does for you! Some of the higher value symbols have a secondary purpose within the slot's bonus features, which we'll discuss in depth now.
Candy Burst Slot Features
One of the best (relatively) recent innovations in the world of online slots is the concept of Collapsing Wins, in which all the symbols which make up a winning line disappear when they've been counted, and are replaced by new symbols which might then create winning combinations of their own. Candy Burst comes with a collapsing wins feature too - but it has nothing to do with winning symbols. Four of the higher value sweet symbols - specifically the creme swirl, the 'toffee,' the Everton mint, and the humbug, can come in two varieties; wrapped, or unwrapped. That doesn't affect the way they're counted for winning lines - a line of two wrapped Everton mints and one unwrapped one will still pay out as three matching symbols - but it does change how they affect the whole game. The gobstopper will affect the whole game every time it lands. When the gobstopper lands, it will eliminate every other symbol in view (including itself) apart from Wild symbols, which will remain in place. New symbols will then replace the ones which were wiped out. This only occurs after wins from your previous spin have been tallied.
The toffee clears away all symbols directly adjacent to it (other than Wilds), and new symbols then fall in. Creme swirls will clear off all symbols diagonal to them in any direction other than Wilds, to be replaced by new symbols. Everton mints clear their whole reel apart from Wilds. Humbugs clear their whole row other than Wilds. If any new gobstoppers, or unwrapped varieties of any of the above sweets appear within the replacement symbols, the process will repeat, and carry on until no more unwrapped or gobstopper symbols are to be found. The best part about all this is that you don't even need a win to get the process started - just one symbol on any position on the reels! As well as all of that excitement, there's also the Free Spins to think about. The more of the professor bonus symbols you have in view, the better your free spins round will be!
Three of the symbols gets you eight free spins, with all wins multiplied by two. Trigger the feature with four symbols, and you'll have twelve spins, with wins trebled. Landing all five of the symbols at once is worth sixteen spins, with an x4 multiplier. Not only do the special sweet symbols turn up during free spins too, but they're more likely to happen. Given that each collapsing symbol effect is pretty much a free spin in its own right, that means free spins can carry on for a long time! There's much to love about this highly original slot, and it has much more going on below the surface than the whimsical theme suggests. Given the way that the collapsing symbols system works, and the way it pairs so well with the free spins feature, we're surprised that the RTP is a touch low at 95.02%. Wins frequently occur here, and so it feels like it should be higher.
Candy Burst is a Food themed new slot powered by Mutuel via Leander. Candy Burst is ranked at 328 on RoseSlots.com. Related Food mobile slots include Sunny Fruits, Berryburst, Eggspendables, Eggomatic, Big Froot, Sweet Bonanza Xmas, Sugar Train. View all Food themed slots. More Mutuel slot games include Cosmic Fusion, Legend of Daruma, The Showman. View all Mutuel slots.