Cash-O-Matic Slot Game
Play Cash-O-Matic with 1000% Bonus up to £1,000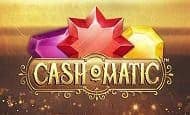 Cash-O-Matic is a 5 reels, 1024 paylines online slots game by Net Ent. Cash-O-Matic has Scatter symbols, Collapsing Wins, Multiplier, and Free Spins featured, and an RTP of 96.33%. The best place for players to enjoy Cash-O-Matic is Rose Slots, where we also host more than 500 more great online slots such as Fluffy Favourites, Starburst, Rainbow Riches, and Great Rhino.
Cash-O-Matic Online Slot UK
NetEnt is a slot game developer who constantly surprises us. We usually associate them with cinematic slots and stunning visuals, so the last thing we expected to see from them in 2019 is a basic-looking online slot which is based around gems and jewels as symbols. Don't let the old-school looks of Cash-O-Matic deceive you though - behind the shabby-chic window dressing is an online slot that packs a whole lot of punch.
Cash-O-Matic Developer - NetEnt
NetEnt is one of the most trusted names in online slots, and that's because they've been around since the invention of the format. The Swedish developer was busy manufacturing physical gaming cabinets in 1996 when the internet began to become more commonplace in people's homes. They embraced the technology faster than most of their rivals, and so gained marketplace dominance online before most other big companies had even worked out what an online slot might look like. The big players have caught them up now, but Net Ent is still a big player.
Having been around so long, it's unsurprising that they've got more than 100 online slots on the market. Their most famous and popular creation is the famous Starburst Online Slot slot, which is still one of the most-played slots here at Rose Slots even though it's a few years old now. Fittingly for a company based in Scandinavia, they were also trusted to make the official slot of the hit television series 'Vikings UK Slot,' which they're also proud of. Slots made by NetEnt are translated into more than twenty languages when they're released, which says everything about their global appeal. Cash-O-Matic is just one more unique offering from a company that's used to breaking the mold.
Play Cash-O-Matic Mobile Slot
It's hard for us even to say which genre this slot belongs to. It definitely has elements of the classic and the traditional - with gems and jewels on the reels, there's no way it couldn't - but with a 5x4 reel-and-row layout, 1023 ways to win and some innovative bonus features, it also has both feet firmly planted in the 'here and now' of online slots. Visually, it looks a little like a very early cash machine, or possibly a bank vault. With the gold-leaf framing of the reels and the impression of steel pulleys and levers, it even borrows a little from steampunk. Add a strangely jaunty soundtrack to the odd visuals, and you have an online slot that doesn't belong to any theme. It's familiar, and yet it's unique.
The reels and rows are based over to the right-hand side of the screen, with meters tallying up your current tally of multipliers and scatter symbols to the left. Both meters are active during the base game, but they're connected to the bonus features, so we'll discuss them all together when we reach that point. If it sounds a little confusing right now, it's because it is!
Because so much of your attention is diverted by trying to rack up multipliers and scatter symbols, the last thing you would want is for the symbols to be garish or distracting, and so they're not. Playing symbols 10 through to A account for the low values - all helpfully color-coded to make them easy to identify - and the same range of colors have been used to for the five shiny jewels which sit above them. That's it for the symbols except for the scatter (a white jewel set into a gold tile). There's no wild symbol in this slot.
With 1024 paylines, Cash-O-Matic counts winning lines so long as matching symbols appear on adjacent reels. It doesn't matter if one is on the fourth row and one is on the first - they'll still count or something. That's all there is to the base game - you're just trying to get winning lines to turn up until something more exciting comes along. You'll need the bonus features to kick into life to make that happen.
Cash-O-Matic Slot Bonus Features
We have a feeling that this is going to be harder to explain than it is to play, but we'll do our best! The first bonus feature in Cash-O-Matic is Collapsing Wins, but they work a little differently here than they do in most other online slots. With a conventional collapsing wins system, the symbols which make up your winning combination vanish after they've been counted, and new symbols fall onto the reels to replace them. Here, the opposite happens. Everything apart from your winning symbols is removed from the reels, and the symbols which make up your win drop to the bottom row. More symbols will then fall in, and if any of them match your winning symbols, they'll also fall to the bottom.
If you're able to fill a row with matching symbols, that will build up your multiplier meter on the left-hand side. When you reach level one, an x1 multiplier is applied to all wins. That becomes x2 at level 2, x4 at level 3, and x10 at level 4. You're very unlikely to reach the top multiplier during the base game, but during free spins, it becomes more plausible.
Triggering Free Spins during Cash-O-Matic is all about landing high numbers of the scatter symbol, which helps out a little by stacking. The scatter will collapse itself as it's counted, falling away to allow one more symbol in from above. These new symbols can then, in turn, contribute towards winning lines on the rest of the grid.
The number of scatter symbols you gather will determine the number of free spins you receive, subject to a minimum of ten. It will also determine the multipliers available to you. Starting with between ten and fourteen free spins means you'll have a minimum of an x2 multiplier on level one, and an x20 multiplier at level four. For fifteen to nineteen spins, there's a minimum multiplier of x3, and a maximum of x30. At the top end, with 20 or more scatters, the minimum is x5, and the maximum is a huge x50.
Cash-O-Matic is a little complicated, and by Net Ent's standards it looks a little plain. That doesn't change the fact you'll be blown away by the free spins feature - if you're able to trigger it. The medium to high variance means you might be waiting a while for it to happen.