Devil's Number Slot Game
Play Devil's Number with 1000% Bonus up to £1,000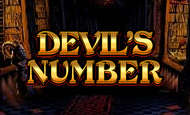 Devil's Number is a five reels, 30 paylines online slots game by Red Tiger Gaming. Devil's Number has Scatter symbols, Collapsing Wins, Multiplier, and Free Spins features, and an RTP of 96.06%. Rose Slots is the best place to play Devil's Wins, and also offers you access to over 500 leading online slots such as Fluffy Favourites, Starburst, Rainbow Riches, and Great Rhino.
Devil's Number Online Slot UK
Abandon all hope all ye who enter here - unless you're looking for a spooky slot game with hidden features, in which case come right in and make yourself at home! Devil's Number by Red Tiger Gaming may borrow a lot of imagery from Satan himself, but beneath its beastly exterior is a slot game full of surprises - along with the potential for some great wins.
Devil's Number Developer - Red Tiger Gaming
Red Tiger Gaming is based in the Isle Of Man, just off the west coast of England, and they've been operation since 2014. That means they're just starting to establish themselves within the online slots industry, but behind the scenes, their senior staff has been around the scene for a long time. Red Tiger did some excellent recruitment work when they set themselves up, and can call on the talents of some very skilled people when it comes to designing slots. Devil's Number is a great example of that.
Although tigers are scary - as is Devil's Number - not everything Red Tiger does is designed to scare you. The complete antithesis of this slot is Cinderella's Ball, which offers a similar range of great features, but dressed up in more cheerful subject matter! Emerald Diamond Online Slot, Vicky Ventura and Spin Town UK Slot are also great places to look if you want to see the variety of their slots range. They normally cram their products full of bonus features - Devil's Number is a positively restrained creation by their standards! If you really want to see them pushing the envelope, head to our library of slots and spend some time playing Spin Town.
Play Devil's Number Mobile Slot
Devil's Number belongs firmly to the horror genre of online slots, and is packed full of the superb graphical touches we've come to expect from Red Tiger Gaming. The style of animation is akin to cartoons from the 1990s, with 'The Real Ghostbusters' springing to mind almost immediately. All the action happens in a dark and foreboding library, with a horned sculpture of Beelzebub himself watching on from the left-hand side of the reels. There's also a skull on a bookshelf to the right which also appears to be watching your game. It's probably safe to assume that all the old tomes we can see on the gloomy bookshelves are full of black magic, evil spells, and incantations!
The atmosphere is further enhanced by sound effects and background music. There's an unsettling, out-of-rhythm scratching and tapping noise in the distance the whole time you play, as if something unspeakable is creeping around the walls of the place. Short bursts of rock music every time you're onto a winner lift the mood a little, but during normal play, the eerie noises are enough to put you on edge!
The reels are a large 5x4 set, upon which the low-value symbols appear to be (more on that in a moment) 10 to A. On top of them are some mysterious bound scrolls, a book of spells, a bubbling cauldron, and a set of three fiery skulls.
Devil's Number doesn't have a Wild symbol, which can make it a little harder to create winning combination, but the slot makes up for it in other ways as we're about to find out. There's a hidden symbol which doesn't appear on the pay table - and also a hidden bonus feature!
Devil's Number Slot Features
If you check the pay table for Devils' Number, it will tell you that it contains two bonus features. It's lying to you - there are three. It would seem that we can't trust the Devil to tell the truth - who would have guessed that! Both of the standard bonus features are active during base gameplay, and can trigger at random on any win. They're never guaranteed to appear - but it's always nice when it happens.
The first is the Mark of the Beast Upgrade, which can trigger any time you create a winning combination using one of the four high-value symbols. The symbols will set on fire, and the value of that win will be doubled. If you're able to make a line of five flaming skulls, your win will be 666x your stake - that's the mark of the beast, and that's why this feature has its name!
The second is an original twist on the format of Collapsing Wins. Wins made using any of the playing card symbols may disappear from the reels after they've been counted, making room for new symbols to fall onto the reels from above, and therefore potentially creating new winning combinations by doing so.
The slot's big secret though is this - there's another symbol that might land on the reels, and at face value, it's a worthless one. It's the number nine, which by rights should be worth less than the 10. The 9 can only land on the middle three reels, but if you land all three of them at once, something dark and wonderful happens. The nines turn upside down, and we have 666 - the number of the beast! Pulling off this trick gives you twelve Free Spins, and during those spins, things get really interesting.
For the duration of your free spins, any wins made using low-value symbols remove that specific symbol from the reels for the duration of your spins, giving you an increased chance of more valuable wins. Any wins made using high-value symbols still doubles the value of your win as it does in the base game, but the double value is now permanent, and will continue to apply to any additional wins made using the same symbols for the rest of your spins. If you're able to remove enough symbols from the reels, you should find it's even quite easy to land a further three nines, which is worth an extra six free spins.
If you want to walk away from Devil's Number with some great wins, you need to stay with it for long enough to get your free spins triggered. Unless you're unlucky, the final two or three spins you make during that feature should be very lucrative. This is a fun and atmospheric slot, and one which proves that it's sometimes fun to spend a little time on the dark side!