Egyptian Fortunes Slot Game
Play Egyptian Fortunes with 1000% Bonus up to £1,000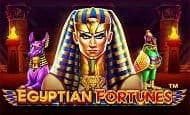 Egyptian Fortunes is a 5 reels, 20 paylines online slots game by Pragmatic Play. Egyptian Fortunes has Wild, Scatter symbols, and Free Spins bonus features, and an RTP of 96.5%. Your best option for playing Egyptian Fortunes is right here at Rose Slots, which is also home to more than 500 more great online slots including Fluffy Favourites, Starburst, Rainbow Riches, and Great Rhino.
Egyptian Fortunes Online Slot UK
Some genres of online slots never seem to go out of fashion. The Irish theme is the most obvious, but if we had to put something in second place behind that, we'd have to say it was the topic of ancient Egypt. We're not exaggerating when we say there are well over one hundred Egyptian-themed online slots out there at the moment. There are several here at Rose Slots - and we only bring you the best of them! It takes something special to stand out from such a massive crowd, but then Pragmatic Play has always known what goes into making a very good online slots game. Even with so much competition - which includes competition from their own slots, because they've used this theme before - we think they've done very well with Egyptian Fortunes, which was released in February 2019.
Egyptian Fortunes Developer - Pragmatic Play
We've discussed Pragmatic Play a lot already over the course of this review, but it bears saying again - very few companies can make slots with mass appeal as well as Pragmatic Play can. By keeping the base game familiar and simple looking, they make themselves available to players who like traditional, easy-to-play slots. By throwing in bonus features like the energy spins we see in Egyptian Fortunes, they also bring in the bonus-driven side of the crowd. The Maltese company, who have been trading for a little over ten years, somehow manage to be all things to all people.
There's always something new to try with Pragmatic Play. The hugely productive company are currently issuing an average of two or three brand new online slots every month of every year. They recently passed 150 slots in operation, and at their current rate of progress, they'll be past 200 by the end of 2020. In that huge number, you'll find a lot of slots that work with animal themes and Oriental themes, although there are also some unique creations such as Madame Destiny UK Slot, Vegas Magic, and Mustang Gold Online Slot.
2018 was the company's best year to date, during which they established their reputation for quality by releasing Wolf Gold, which picked up several awards proclaiming it to be the best slot released by anybody during those twelve months. They'll be after those awards again this year, and given their rate of output, it would be foolish to bet against them succeeding.
Play Egyptian Fortunes Mobile Slot
The big appeal of using ancient Egyptian imagery and ideas to put together an online slot is that it's all so beautiful - it's also fascinating. The ancient Egyptians appeared to be centuries ahead of their time when it came to art, science, and building, and because of that, society as a whole has been intrigued by the era for decades. For a lot of people, ancient Egypt was their favorite history subject at school. Pragmatic Play has done justice to that idea of beauty with this slot. The action happens deep within an Egyptian tomb, where flaming torches mountain on sandstone columns allow us to peer into the gloom behind the reels. Everything looks great, and the backing track of Egyptian-themed music complements the visuals very well.
Using playing card symbols as low values isn't exactly the most original idea anyone's ever had when it comes to slot game design, but Pragmatic Play gets a pass for it in Egyptian Fortunes because the symbols have a secondary purpose, as you'll find out when we get around to discussing the bonus features. Four more valuable symbols exist in the base game too; Bastet, Anubis, and Apis (all old Egyptian Gods), and the world famous golden mask Tutankhamun was buried with. Egyptian Fortunes also has a bonus symbol, which comes in the form of a pyramid. That's the only symbol which can't be substituted by the wild, which is represented by a pair of gold asps.
Egyptian Fortunes Slot Bonus Features
Pragmatic Play work very hard when it comes to pairing up bonus features with their often-traditional base games. As a whole, the company walks a fine line between the traditional and the modern, resulting in slots that often look quite basic but have more going on than meets the eye when it comes to the bonus features. That's the case here with Egyptian Fortunes, which has two varieties of free spins to offer you.
Energy Spins is the first such feature, and this is where even the low-value symbols can be helpful as we alluded to earlier. Making winning combinations of any kind created 'energy' which charges you up for a sequence of free spins. The higher the value of the symbols used in the winning combination, the fewer of them you need to get a few energy spins. A winning line using four A symbols may not be worth much to you in terms of cash, but it will get you four spins. The least valuable symbol, 10, is worth five spins for a winning line of five of them. At the other end of the scale, you may only get three free spins for landing three of the gold masks, but you'll already be happy by then because you'll have had a good win in the first place.
The more 'standard' of the Free Spins feature is triggered by landing three of the pyramid-shaped bonus symbols. Three is the maximum you can land; you'll only find them on reels one, three, and five. The six free spins you get as a reward may not sound like much, but Egyptian Fortunes does a little something extra for you while those spins are happening. Three base game symbols are selected at random, and everything else except the wild symbol is removed from the reels. Wins are now a lot easier to find, and so you should expect at least three or four good ones during your spins.
What Pragmatic Play has done exceptionally well here is made us care about small wins. Nobody usually gets excited about stringing a winning combination together using playing card values, but when you can get a few free spins out of doing so, it suddenly becomes a much more attractive prospect. Egyptian Fortunes isn't a revolutionary slot, but Pragmatic Play doesn't often push the boundaries; they make very high-quality online slots designed to appeal to a broad and general audience. The free spins feature is also worth sticking around to play with - even if we do think that a couple more spins as part of that round wouldn't have broken the bank. If you like Egyptian-themed slots, give this a try and see how it compares to your usual favorite.
Egyptian Fortunes is a Egyptian themed slot powered by Pragmatic. Egyptian Fortunes is ranked at 56 on RoseSlots.com. More Egyptian mobile slots include Aladdin and the Sorcerer, Rise of Egypt, Ancient Egypt, Ancient Egypt Classic, Ancient Script, Pharaohs Luck, Pharaoh. View all Egyptian themed slots. Similar Pragmatic UK slots include 5 Lions Gold, The Champions, Dwarven Gold Deluxe, Hot Safari, Mysterious, John Hunter and the Aztec Treas, Hot to Burn. View all Pragmatic slots.