Village People Macho Moves Slot Game
Play Village People Macho Moves with 1000% Bonus up to £1,000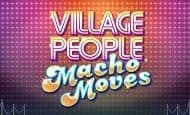 Village People Macho Moves is a six reel, fifteen paylines online slots game by Fortune Factory Studios. Village People Macho Moves has Wild, Additional Wild, Free Spins, Multiplier, and Sticky Wild features, and an RTP of 96%. Rose Slots is the best place for you to play Village People Macho Moves, and is also home to over 500 fantastic online slots including Fluffy Favourites, Starburst, Rainbow Riches and Great Rhino.
Village People Macho Moves Online Slot UK
Making a slot game based around the music and charisma of 1970s dance icons the Village People is such a great idea that we're amazed it's never been done before. There are many musicians and musical acts who have their own online slots - including the Guns n Roses Online Slot you can play right here at Rose Slots - but very few of them will have the universal appeal and camp charm of the Village People. The band was always larger than life, and we're delighted that they've been re-imaged as cartoon characters in their own slot.
Play Village People Macho Moves Mobile Slot
Village People Macho moves is the work of Fortune Factory Studios - a small developer attached to Microgaming, who we'll talk more about a little later on. As you'd hope for from a slot using this theme, playing Village People Macho Moves is as much about the look and sound of the slot as it is the execution. It just so happens that it's also a great slot game, with some great bonus features. In the unlikely event you've never heard of the Village People - which we suppose is possible - they rose to fame off the back of their global smash hit 'YMCA' in 1978, and for a brief time, they were one of the biggest bands in the world. They're still held in high affection to this day - hence the creation of this slot game!
'YMCA' is one of the songs used as backing music in the slot, along with their other well-known songs 'In The Navy,' 'Macho Man,' 'Go West,' and 'Can't Stop The Music.' Those are the only five songs available, so if you're playing for a while they might start to grate on you. You have the option to turn the sound off if it becomes an irritation.
Turning our attention to the reels, we find they're an expanded set, with six reels and three rows, set against the backdrop of a nightclub. The reason there are six reels is that there are six members of the Village People - a policeman, a construction worker, a native American, a cowboy, a sailor, and a biker. All of them have a reel of their own, which they stand above on a platform. There's a meter underneath each platform made up of green lights, which we'll discuss when we come to talk about the bonus features.
Considering there are six reels, Village People Macho Moves contains a surprisingly low number of symbols. The low values are represented by the four playing card suits, above which are some disco shoes, sunglasses, old vinyl LPs, 8-track recording devices, and golden microphones. Above and beyond the base game symbols, Village People Macho Moves also has two different wild symbols, both of which can replace anything other than each other to create winning combinations. One of them is a standard wild, and the other is a 'VIP Wild' which has a larger role to play when it comes to bonuses.
Village People Macho Moves Developer - Fortune Factory Studios
Although Village People Macho Moves was released under the Microgaming label, the team that performed all the work was Fortune Factory Studios. They're a very new name in the world of online slots, with their creation announced by Microgaming in October 2018. Based in the Isle of Man, they're an independent studio, but as of right now they only develop content for Microgaming. Thus far the online slots they've released are Village People Macho Moves, Romanov Riches, Holly Jolly Penguins, and Showdown Saloon UK Slot. Four online slots in less than a year isn't a bad start - especially when the slots are at this level of quality.
Although the company might be new to the industry, the team behind them isn't. All of the senior staff at Fortune Factory are experienced professionals drawn from both the online and offline gaming world, as well as those with a background in designing video games. That probably explains why the Village People slot is so good-looking! Their company tagline is 'Product with Personality - they believe that the ideal online slot shouldn't just be great to play, it should also be full of character, whimsy, and even a little comedy. To put it another way, they design online slots to put a smile on your face.
Village People Macho Moves Slot Bonus Features
The main focus of the bonus features in this slot game is free spins, but each of the Village People characters has a different variation of free spins to offer you - and triggering it depends on landing those VIP wild symbols in sufficient quantities.
You'll get a Wild Reel every time you land a VIP wild anywhere on the reels - the moment it lands, it will turn the other two symbols on the reels wild, and cause additional wins to be awarded to you if it's possible to do so. The wild reel doesn't stick in place - so it won't be there for your next spin - but it's a nice perk just for landing one symbol.
The real fun comes from the Macho Moves feature. Below each of the platforms that the band members are standing on is a meter. Every time a VIP wild lands on a character's reel, the meter will increase by one, indicated by a green light. Once you've filled their meter - done by landing five green lights - their special Macho Moves bonus round will begin. No matter which character's meter you fill you'll always get five free spins - but those five free spins come with different perks.
The Construction Worker is on the first reel, and he offers multiplier. For the duration of his five free spins, a randomly-awarded multiplier between 2x and 20x will be applied to any winning combinations you find during your spins.
On reel two is the Cowboy, and for your five spins with him, there will be somewhere between two and twelve extra wild symbols added to the reels between every spin. This makes winning much easier. The Police Officer on reel three will turn at least two of the reels wild on each spin - and if you're lucky, he might turn as many as four of them wild at the same time.
If you fill up the meter on the fourth reel, you'll be playing the Native American's take on free spins. On the first spin, the fifth and sixth reels are wild. After every spin they'll move one reel to the left, meaning they're on the first two reels by the time the round is over. That's a guaranteed win!
Reel five belongs to the Biker, who doesn't have any extra wilds to offer you. Instead, he'll remove all of the low-value symbols from the reels for the duration of the five spins, and replace them with a matching set of one of the more valuable base game symbols. That means you win more often, and at a higher value.
The final reel is where you'll find the Sailor, who has sticky wild symbols for you. Every time you spin, somewhere between one and three wilds will freeze in place and hopefully make it easier for you to put winning combinations together.
Because all of the bonus features in Village People Macho Moves are variations of free spins - and you only get five free spins no matter which variation you're playing with - this online slot can feel a bit like style over substance at times. What it perhaps doesn't offer in variety, though, it does offer in generosity. Because wild symbols land so frequently - and wild reels occur just as often - you're never far away from the next win. That's always a good reason to carry on playing. Plus, the soundtrack is fantastic!
Village People Macho Moves is a Art themed mobile slot developed by Fortune Factory via Microgaming. Village People Macho Moves is ranked at 171 on RoseSlots.com. More Art games include Best Things in Life, The Curious Cabinet, Monte Carlo Classic, Le Kaffee Bar, Riviera Star, Cabaret Royale. View all Art themed slots. Similar Fortune Factory UK slots include Tiki Mania, Showdown Saloon. View all Fortune Factory slots.