Fruits & Jokers: 100 Lines Slot Game
Play Fruits & Jokers: 100 Lines with 1000% Bonus up to £1,000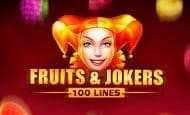 Fruits And Jokers: 100 Lines is a 5 reels, 100 paylines online slots game by Playson. Fruits And Jokers: 100 Lines has Wild, Scatter symbols, and Stacking symbols features, and an RTP of 96.46%. If you're looking to play Fruits And Jokers: 100 Lines, you're in the right place here with us at Rose Slots. We also have over 500 more great online slots to offer you, including Fluffy Favourites, Starburst, Rainbow Riches, and Great Rhino.
Fruits & Jokers: 100 Lines Online Slot UK
If you want to play a great online slots game with a traditional feel to it, the first place you look in the current age of slots is usually Playson. The developer has developed a strong reputation among players for being the best in the business when it comes to keeping traditional players happy, and they work hard to make sure it stays that way. Nobody seems to release more slots aimed at the classic end of the market than Playson, and yet somehow they always find a way to make their offerings seem fresh and interesting.
Fruits & Jokers: 100 Lines Developer - Playson
If we traveled back in time to 2012, we'd find Playson going about the task of setting up their first office in Malta, with only a handful of people working for them. Jump forward to the here and now, and they employ well over seven hundred people in a series of offices all over the world. It's been a rapid rise for the company, and it's largely come because they know what they're good at, and they stick to it. As we said right at the start of the review, there's nobody better when it comes to pleasing people who like classic and traditional online slots.
The Fruits and Jokers series is one of the things that Playson is best known for, but it might be in second place on their list of all-time achievements behind the Burning Wins series, which uses similar themes but incorporates a few more elements of 21st-century gameplay; especially when it comes to bonuses. It's still classic enough to make the traditionalists happy, but it feels modern enough to please that end of the market, too.
It would be wrong of us to suggest that Playson never do anything that isn't focused on the classics - they've used Egyptian mythology as a theme a couple of times with their Book of Gold slots, and also with Legends of Cleopatra Online Slot. Their safari themed slot Mighty Africa UK Slot, which contains over four thousand ways to win, demonstrates that Playson can easily make more modern and complicated online slots if they want to - it's just not what their audience wants from them.
Play Fruits & Jokers: 100 Lines Mobile Slot
In the case of Fruits and Jokers: 100 Lines, this is the third in a series of online slots which use the same name. As is slightly hinted at by the title of the slot, the only difference between them is the number of paying lines they have available. The original had only twenty, which got upped to forty for the sequel, and has now been more than doubled to give us a whole one hundred to play for in this latest release, which came out in April 2019.
The whole idea of the Fruits and Jokers slots is to hark back to a simpler time in slot gaming's history, so you won't find much in the way of themes or expanded side games here. Playing Fruits ad Jokers: 100 Lines is like playing a digital version of an old slot machine in a bar or pub, and uses many of the same symbols. There's been an upgrade since the last installment though - to fit in all of those extra paying lines, the number of rows on the five reels has been upped from three to four. They're held in a gold frame in front of a plain red background. Although there's no need to do too much with animations when making traditional slots, all the symbols on the reels are well drawn, and the visuals are crisp and sharp.
On the reels, you'll find everything is very familiar to you if you're a frequent player of old-school slot games. The least valuable symbols are all fruit; going in order, we have cherries, lemons, and oranges in joint last place, followed by grapes and watermelons, and then lucky red sevens. Even making a winning line of five lucky sevens isn't much cause for cheer - it's only worth just over one and a half times your stake.
Above those base game symbols we have a scatter, which is represented by a star, and then the joker, which (just as in several card games) is wild. Everything except for the scatter can be replaced by the star to help create winning lines.
Fruits & Jokers: 100 Lines Slot Features
There's nothing to see here - there are no bonus features in this slot! No multipliers, no free spins, no bonus rounds, nothing. And that's just how it's supposed to be. Our Rose Slots library is full of online slots which have multiple bonuses, and we'd love you to go and try some if that's what you're looking for! The audience that Playson has in mind for this slot isn't interested in complicated bonus rounds, and so they haven't included any.
The one thing that we could possibly count as a feature is that all of the symbols - other than the scatter - tend to land in stacks when they appear. That means if you have one winning line on the screen, you probably also have one or two more to go with it. That helps to balance out the otherwise very low winnings you can make from stringing single winning lines together.
The top prize available in Fruits and Jokers: 100 Lines comes from landing multiples of the scatter symbol. If you spin and land all five of them at the same time, your payout will be 400x your stake. If you only find four of them, the payout drops all the way down to a mere 20x your line bet, but that's still more than you'd get even for stringing 5 wild symbols together.
Fruits and Jokers: 100 Lines won't appeal to players who like to hunt for big prizes, but Playson didn't make it for them. This is a relaxed slot which mostly offers small payouts, but does so regularly. If you're already a fan of the Fruits and Jokers series from the previous slots Playson has put out under the title, you'll enjoy this one just as much. Given the expanded number of paylines on offer, you might find that you enjoy it even more!