Fruits Go Wild Slot Game
Play Fruits Go Wild with 1000% Bonus up to £1,000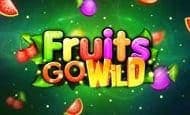 Fruits Go Wild is a three reels, 27 paylines online slots game by Leander Games. Fruits Go Wild has Wild, Bonus symbols, Free Spins, Bonus Game, Respin, and Sticky Wild features, and an RTP of 96.1%. The best options for you to play Fruits Go Wild is right here at Rose Slots, which is also home to over 500 more leading online slots such as Fluffy Favourites, Starburst, Rainbow Riches, and Great Rhino.
Fruits Go Wild Online Slot UK
If you've seen the word 'fruit' in the title of this online slots game and you're expecting to find a traditionally-focused slot because of it, you'd be both wrong and right in equal measure. There's little doubt that Leander Games have used some of the window-dressing of slot gaming's past as their inspiration for this slot, but that's all it is - window dressing. In both function and features, it's something far more modern and advanced.
Fruits Go Wild Developer - Leander Games
Although Rose Slots is a site for UK based players, we welcome the best slots from developers all over the world. Leander Games, for example, are based in Argentina, and have their main office in their home nation's capital city of Buenos Aires. They've been active on the online slots scene for just over ten years, having started trading in 2008. It hasn't taken them long to expand their operations all over the globe!
Leander's calling card is usually online slots which have beautiful graphics, and unusual themes. Candy Burst UK Slot is all about classic British sweets - which is an odd choice for a South American developer! Then there's Force of Nature Online Slot, which is about natural disasters, and Wild Jane, which is about the female answer to Captain Jack Sparrow from the 'Pirates of the Caribbean' movies. They cover a diverse range of themes, and have shown so far that they're able to excel in all of them.
As we said earlier, Fruits Go Wild is probably the least visually attractive slot they've ever released - and it's still a pretty slot to look at! They seem to get better each time they release something new, and have recently agreed to create the official online slot of rock legend Alice Cooper. Leander is a developer we keep a close eye on, and we'll be sure to bring you the best of their new material as and when it comes out.
Play Fruits Go Wild Mobile Slot
On the surface, this September 2018 release looks like many other slots which try to emulate the experience of playing a slot machine in a bingo hall or casino. It has fruits on the reels, and there are only three of those reels to play with. Not only that, the reels have a mere three rows, which is more in line with what you'd expect from a slot machine from the 1980s than an online slot from the 21st century. Your first clue that there may be more going on here than meets the eye is the fact that 27 paylines have been crammed into this layout; your second is the row of smaller symbols which form the border of the reels. We'll be addressing those when it's time to talk about the bonus features.
Behind the reels is a swirling area of green light, with shapes passing through it. It looks slightly hypnotic, but it's best not to get too distracted by it - you'll want to pay close attention to what's happening on the reels! There, you'll find only four base game symbols; watermelons, lemons, bells, and lucky 7s. Four sounds low even for a slot with so little space on the reels, but it's low because we also have to find room for a couple of bonus symbols.
The first is the wild, which can substitute for anything except the bonus symbol to add to winning combinations for you. The bonus symbol reads 'FREE SPINS,' and so you don't need to be told what that will do for you if you can land enough of them at one! Let's move on to talking about the bonus features so we can give you the full lowdown on what to expect there.
Fruits Go Wild Slot Features
You don't tend to expect much from 3x3 online slots when it comes to bonus features because most of them are trying to replicate the look and feel of older slot machines. Fruits Go Wild isn't. It's something of a wolf in sheep's clothing when it comes to all the extra punch it's carrying in its bonus offerings, as you're about to find out!
The first feature in the slot is active during the base game, and that's Sticky Wilds. Any wild that lands might become sticky, and remain in place for the next spin. If, however, that wild lands dead center on the reels - by which we mean on the second reel and in the middle row - it will both stick and award you one free Respin to see if any new winnings combinations can be generated.
As heavily hinted by the words on the symbol, Free Spins are what you get when you land three of the bonus symbols. Once you've pulled that trick off - which takes some doing given the lack of space on the reels and the scarcity of the symbols - the slot will assign you a randomly generated number of free spins. It could be high or low! The sticky wilds system described above remains in place throughout your free spins - as does the border bonus feature.
The Border Bonus Feature is by far and away the best thing about Fruits Go Wild, and it's all about the symbols which line the border around the reels. One of the fruits on the border will be highlighted. When you land a matching symbol in the central position on the reels, the highlight will move on to the next symbol. If you make it all the way around the border, you'll be taken to a new screen - one with fireworks in the middle, and cash prizes around the outside!
A light will spin around the various cash prizes - the lowest of which is 5x your stake and the highest of which is a massive x2500. Wherever the light settles, that's your prize, and you're back to the base game. To make things a little easier, every time you land a wild in the central space, it will count towards the border bonus as if it were the highlighted symbol. We suspect this sounds harder to follow than it is, so give it a try and find out!
With the addition of the border bonus, Fruits Go Wild is a very original slot from Leander. If we were to be picky, we'd say that the free spins feature may be too hard to trigger, and the graphics are a little shabby by Leander's high standards. That's not to say they're ugly though - Leander's worst days with graphics are still better than the best days of some other developers!
Fruits Go Wild is a Fruit themed slot game by 7 Deuce via Leander. Fruits Go Wild is ranked at 593 at Rose Slots. Additional Fruit slot games include Fruits of the Nile, Fruitful Siesta, Fruitinator JPK, Fruit Basket, Hot Frootastic. View all Fruit themed slots. Additional Ainsworth Games mobile slot games include Golden Ox. View all Ainsworth Games slots.