Irish Luck Slot Game
Play Irish Luck with 1000% Bonus up to £1,000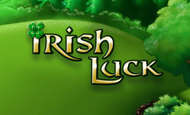 Irish Luck is a 5 reels, 25 paylines Online Slot Game by Eyecon. Irish Luck has Free Spins, Symbols collection (Energy), Wild features and an RTP of 95%.
Irish Luck Online Slot UK
Online slots offer many games related to cultures and traditions from around the world. Needless to say, many of them are entertaining but not everyone makes it to the player's attention. Imagine a game which takes you to a folklore background and ideas, where you are surrounded with an aura of their culture and tradition. What more fun can it be if it's offering fortune with your luck. Irish Luck is just the kind of slot game that you can find at RoseSlots.com.
Irish Luck Developer - Eyecon
Eyecon is the leading game's developers in the online slot market, they are responsible for some of the most successful slots around. Other top Eyecon slot games include Hold the Safe slot and Piggy Payout online slot.
Play Irish Luck Mobile Slot
Not only is this game related to the Irish heritage but the bonuses and features make it more interesting to play. It doesn't matter where you're from, all that really matters is that if your luck is with you, you can manage to get a lot. The graphics and the sound effects make you feel as if you're present gazing at the beautiful rainbow with a pot of gold on the other side. It's like actually living in the folklore itself.
Irish Luck Slot Features
Irish Luck is a relatively simple game but that trait should not confuse the player about its bonuses and prizes. Irish Luck has RTP of 94.26% which is decent enough considering its other features and bonuses present. The symbols used in this game are 1, 9, 10, A, Q, Horseshoe, Clover Leaf, Harp, Gold Pot, Diamond Ring, Symbol, and A Redhead woman. Irish Luck has 5 Reels and 10 Pay-lines. 10 coins are used each pay-line. The Wild Symbol is represented by Redhead Woman. If the redhead woman is found on all reels, whatever you may have won so far will be doubled. As far as the bonus feature goes in the game, there is only 1 but that has its own surprise. To enter the bonus round, you have to have Gold Pot symbol appear 3 or more times in the reel. When that happens, the game is shifted to a new screen where you are offered 8 free spins. On this new screen, there are present 5 gold pots. You have to choose 2 and if you are lucky, you can win lots of multipliers and free spins.
Irish Luck Casino Site - Rose Slots
There are many games that can be related to Irish themes. Some of the notable mentions are Irish Eyes online slots game, Slot O' Gold, Rainbow Riches slots game has many version of the game and can be easily found anywhere online. A lot of game share similar features with Irish Luck. Himalayas Roof of the World, Paint, Kiss of Luck, Emperor's Gold, and Valhalla are some of the games very similar with Irish Luck. If you're keen and interested in finding more games related to Irish culture, feel free to visit Rose Slots online slot games
Irish Luck Online Slot Review
This 5x3 online slot from Eyecon has both feet firmly planted in the 'Irish folklore' genre, and offers 25 paylines, RTP of 95%, and a maximum jackpot of 3000x the initial bet. Thee bonus rounds, namely, Match & Win, Prize Pick and Gamble, are on hand to add to the game's variety. DISCLAIMER: There are two online slot games with the name 'Irish Luck'. For the avoidance of confusion, the game we're reviewing here is the version made by Eyecon. Almost every major slot game developer has tried the 'Irish' genre at least once. We have a number of takes on the theme available to our players here at Rose Slots, and they by no means account for all the options out there. We could probably replace every single one of the 600 online slots we offer with an Irish themed game, and we still wouldn't have all of them! So much of the mythology around the Irish is based around luck; and whilst the phrase 'the luck of the Irish' actually comes from the California Gold Rush, but that doesn't stop people believing in leprechauns, sitting at the end of the rainbow with their pots of gold. Because there's a connection with luck, and online slot players need luck when they're playing to bring home wins, it's one of the most obvious and reliable themes a developer could use.
The problem for most developers, though, is that the Irish legends theme is dominated by Barcrest's Rainbow Riches series of games. Very few people would argue with the idea that they're the most popular games of their type, and they're definitely the best known. Trying to compete with such an established franchise isn't easy, and only the very brave or the very stupid would give it a try. Eyecon, the creators of the Fluffy Favourites games, certainly aren't stupid, so they must be brave. But has it been worthwhile? Does this game stand up to the Rainbow Riches games? Let's break down what it is and what it offers, and you can decide for yourself. One of the things that the Rainbow Riches games are so well known for is their almost cheeky sense of fun, and Irish Luck has bags of it, too. The visual style is light-hearted, taking a jolly approach to Ireland and its scenery, with green hills and fields roll that away into the background, and bright rainbow sits high in the sky (which really might be a case of borrowing too much from the Barcrest games!). Everything is unashamedly bold and bright. There isn't much in the way of a soundtrack here, which is something of a shame, but Eyecon games tend not to go overboard with backing music. We understand why; even the most innocuous of music becomes annoying after you've heard it play in a loop for the twentieth time.
Eyecon are known for going 'big' with characters and themes. When they decide to use one, they make sure it's applied throughout their entire game. What that means for the reels and the symbols on them is that everything is on-message. No fruits or playing cards to be found here. Instead we have some shiny gold coins, a pint of good old Irish stout, toadstools, crumbling ancient castles, a stone wall, a rainbow and a pot of gold (of course), and a money tree which has golden coins falling from the branches. That's the most valuable basic symbol in the game, and will pay out cash prizes if you're able to land as little as two of them on the reels at the same time. A quirky feature of the game is the letter symbols. The letters I, R, I, S, and H appear as symbols, and you shouldn't need our help to work out what that spells. The more of the letters you can land consecutively from left to right in any one spin, the higher the prize you receive is. If you're able to get the full word spelled out across the reels, you win the game's top 3000x jackpot.
The game's wild is represented by that luckiest symbol of Ireland; the four leaf clover. That substitutes for any of the game's basic symbols to create winning combinations for you, as well as doubling the value of any winning line. The exceptions to the rule are the game's scatters, which cannot be replaced. They're represented by a smiling leprechaun, and a smiling fairy. Each of them provides access to a different bonus feature. If it sounds like there are a lot of symbols to stay on top of in Irish Luck, that's because there are. It might be a little too much for some players, but Eyecon have decided to make a big, bold, feature-packed game to compete with Rainbow Riches, and you have to tip your hat to them for that.
Irish Luck Bonuses
There are three bonus features in Irish Luck (or four, if you include the unique 'spell the word IRISH' feature). Two of them are unique to this game, and one of them is a standard offering across many of Eyecon's online slots, which has become something of a trademark for them. Let's look at what the leprechaun can offer you first. Land at least three of the smiling fellas on your reels, and you'll be transported to a new screen where you can pick yourself some prizes. That's why this bonus is called Prize Pick. You're allowed to make one selection for each of the leprechauns you landed on your reels, thus triggering the round. Each selection you make will reveal one of only two things; either a leprechaun or a fairy. Every leprechaun is worth ten free spins with a 2x multiplier active throughout them. Each fairy will just hand you a multiplier of your initial stake, which could be anything up to a maximum of 100x.
If you land three or more of the fairies instead of the leprechauns, you'll trigger the Match and Win bonus instead. It takes place in another game screen again, and this time you're playing something that works a little like a digital scratchcard. Scratch away the clovers to find out what's behind them. We'll spoil it for you a little; they're all multipliers. You keep playing until you find a matching pair, and as soon as you do, that multiplier is applied to your initial bet and given to you as a cash prize. That could be anything up to 1000x your stake. The common Eyecon feature we mentioned earlier is their Gamble Feature. Many slot games contain a variation on this theme; you're given the chance to wager your last win on a 50/50 bet. Win and your prize doubles, lose and you're back to zero. You don't have to take the gamble, so only take the risk if you're feeling lucky!
About the Developer - Eyecon
Unless you're very new to the world of slot games, you'll have heard of Eyecon Games before. It's hard to say who the single largest online slot developer in the world is, but Eyecon definitely deserve to be in that conversation, and they're known throughout the industry for creating quality games. There's a good reason for that; once upon a time, they actually made video games rather than slot games. The Eyecon story starts over 20 years ago in 1997. They were an independent game developer, and caught the world's eye quickly with 'Gore', a horror-themed game which was downloaded millions of times. After experimenting with several different genres, they decided in 1999 that online slots would be their future; the internet was developing rapidly, and Eyecon realised faster than most that the future of gambling was probably online.
It took a while for Eyecon to get to grips with this new and emerging format; they had to form partnerships with gaming companies and explain exactly what it was they were trying to do. In the days when the internet was a new idea, that wasn't always easy! Their efforts paid off in 2003 whey they released 'Temple of Isis', their first ever slot game, and one that's still around today (renamed 'Temple of Iris'). Key to Eyecon's success has creating games with charm; Eyecon's most successful releases aren't games that people play for a few months and then walk away from. They create timeless classics that are still played over a decade after their initial launch. The developer's signature title, Fluffy Favourites, might just be the best example of that longevity. The legendary slot game was first released to players in 2006. Even after so many years, with a number of sequels released, it's still the best known Eyecon game, and probably always will be; especially now that there's a family of associated games built around it.  
The number of Eyecon slot games currently on the market is in excess of sixty, and that number seems set to rise in years to come as the developer appears to have accelerated production recently. They have offices on both sides of the world; Guernsey and Australia, which literally makes them a worldwide brand. Slot games are the main thrust of what they do as a business, but they've also ventured into bingo and roulette. Last year, the reels on Eyecon games on the internet were spun more than six billion times. Applying a little maths to that, it works out at just below 11,500 every minute. That's incredible!

Talking about Irish Luck on their website, Eyecon have the following to say:-
"Embrace your inner lucky leprechaun when you play Irish Luck Slots. It's one of the best online slot games around, and once you start spinning, it'll be clear why! It's a fun and light-hearted Irish themed game, filled with all things lucky – Four Leaf Clovers, Leprechauns, Fairies, Frothy Beer and more! It's an easy game to play, and you're guaranteed to have the best time whilst winning big! Green never looked so good! Don't miss another minute of luck – spin to win Irish Luck Slots today!"
You can't fault Eyecon for their enthusiasm, and they're right to feel that they've made a high quality, enjoyable game. Whether or not it's one of the best online slot games around is open for debate, but why not try it yourself and see what you think?
Eyecon Games Similar to Irish Luck
At the start of this review, we went into detail about the sheer number of Irish themed slot games out there. Almost every developer has released at least one, and larger developers often have several. Eyecon are definitely one of the larger developers, and so Irish Luck isn't their first rodeo with the genre! Let's see what else they've come up with.
Fiddle de Dough: One glance at Fiddle de Dough is probably enough to know that it came from the same developer as Irish Luck; the style and the symbolism is very similar. Fiddle de Dough is chasing a difference audience though. It's game that's very much for traditionalists, simulating the look and feel of an old fashioned physical slot machine, with a 3x3 layout. Looks can be deceiving though; despite the seemingly basic nature of the game, it's hiding the very same Prize Pick bonus feature as Irish Luck. RTP in this game is 95%, and it comes with a backing track of violin music that may never leave your head once it's wormed its way in there.
Kiss Me Clover: This is the Irish theme done differently. Specifically, it feels like it's been looked at through female eyes. The leprechauns in Irish games are always male; or at least they were until now. Kiss Me Clover has a female leprechaun in the lead role; starring in her own game which is played across a 5x3 layout, with RTP at 95.3% and 25 paylines. It departs from the imagery of both of Eyecon's other Irish games, finding a style of its own that's somewhere between picture-book and fairy tale. The game offers a single bonus; a wheel of fortune that you can spin to win a multiplier. It's definitely fun, but it's definitely more lightweight than Irish Luck when it comes down to features.
Irish Luck Jackpot: 'Jackpot' versions of games aren't so much sequels, or even different games, as a different way of approaching the same game. Irish Luck Jackpot is exactly the same as Irish Luck in every way in terms of look, features and execution. There are only two differences. The first is that the RTP drops way down to 89.9%. The second is that in return for the lower RTP, you have potential access to a linked, progressive jackpot which could potentially be worth several thousand pounds. If you're prepared to take fewer wins in return for a shot at a higher prize, the chance is there for you.
Other Games Similar To Irish Luck
Taking into account what we said at the start of the review, we're obviously not going to list every single Irish themed slot game in the world. It would take us the rest of our lives to write it. Instead, let's take a look at the ones we offer to players here at Rose Slots. We don't accept games from just anywhere; only slot games that meet with our approval can join our roster, and so you can rest assured that the other Irish themed games we offer are of good quality.
Rainbow Riches: This is one of the most well-known slot games in existence; not just in terms of the Irish theme, but all themes. Designed by Barcrest, this game is strikingly similar to Irish Luck in its aesthetics, both in terms of the layout and the colourful characters. This is an utterly charming, hugely popular game with a massive and devoted fan base of players. Part of the reason for that is, much like Irish Luck, there are plenty of bonus features, and they're a lot of fun to play. Rainbow Riches is truly a legend in the online slot world, and no matter what anyone else does, it will probably always be the best known Irish themed slot game.
Leprechaun Song: Whenever you hear Pragmatic Play have released a slot game, you expect it to be a quality offering. Leprechaun Song definitely lives up to the billing. This slick, stylish game oozes quality, from its smooth animation to its high quality and authentic Irish soundtrack. It takes a different route to Irish Luck, keeping its bonus offerings low but ensuring they're effective. RTP comes in at 96.46%. Again, this is a similar take on the genre to both Irish Luck and Rainbow Riches, but is still unique enough to stand on its own two feet. It's also probably the best looking of the games, if that counts for anything!
Irish Eyes 2: We actually have both of NextGen's Irish Eyes 2 games available for you at Rose Slots, but as this is the follow up and therefore the more recent, we'll offer this version for comparison to Irish Luck. This game focuses not only on the beauty of Ireland, but the beauty of its women, who make several appearances on the reels! Irish Eyes 2 offers both free spins and a 'double or nothing' gamble feature, along with a solid 95.04% RTP. There's no doubt it's a solid game, but it doesn't have the same range of features that Irish Luck can boast. That being said, it probably appeals more to people who prefer stripped-down slot games as a result.
Irish Luck Slot on Mobile
Irish Luck has two things going in its favour when it comes to how well it works as a mobile slot. Firstly, it was only released in 2017. Any game that's been released as recently as that should have been developed with mobile slot players in mind. Secondly, it's an Eyecon game. Eyecon do better than most other developers when it comes to turning their online slots into mobile slots. So how have they done with Irish Luck? Here's your answer: They've done it brilliantly. Aside from the fact you're playing on a smaller screen, and using your finger, there's no difference between playing Irish Luck on your phone, and playing Irish Luck on your laptop. This is an intelligent port of the original game; all the sounds and sights have made it across from one format to the other, with nothing lost on the journey. The game is even clever enough to know which way up you're holding your device. Tilt it to the side, and the buttons will relocate themselves conveniently, and the reels expand to fill the extra space. Everything is just the right size to be convenient and comfortable. If you're playing with your phone the right way up, you even get to see a little more of the landscape behind the reels, which is no bad thing. This is a perfect conversion of the game. We wish every developer did it as well as Eyecon have here!  
Irish Luck In The News
As Irish Luck was released back in 2017, the initial attention that came with its launch has died down now. That's the way the press works; your game is shiny and new on the day is launched, and then something else comes along, and people stop writing about it. But that's fine; it's no reflection on the game itself. Just because nobody is currently writing about Irish Luck doesn't mean the game isn't worth your attention. Like seeing a band at a small venue before they make it big, it's your chance to discover a really great slot game that everybody else might be missing out on!
Irish Luck is a Irish themed slot game from Eyecon. Irish Luck is ranked at 6 at Rose Slots. Related Irish slots include Clover Tales, Fiddle Dee Dough, 9 Pots of Gold, Rainbow Jackpots, Kiss Me Clover, Irish Eyes, Rainbow Riches Free Spins. View all Irish themed slots. Related Eyecon UK online slots include Happy Mushroom, Fluffy Favourites, Fortunes Prophet, White Wizard, Beat the Bobbies 2, Fae Legend Warrior, Xingyun BaoZhu. View all Eyecon slots.